ICSIM
> Local Information

Here is a nice documentary on Morocco (in French, but the views are stunning !)
( https://www.youtube.com/watch?v=dEnxm6ziod8)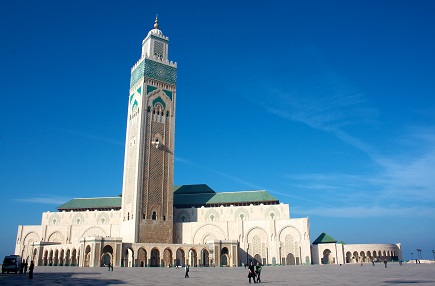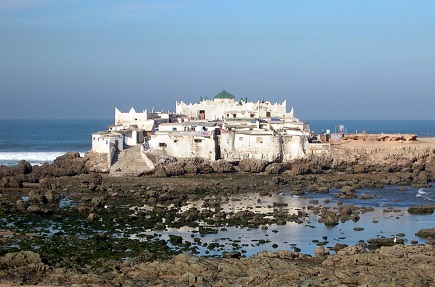 Though not as atmospheric as other Moroccan cities, Casablanca is the best representation of the modern nation. This is where money is being made, where young Moroccans come to seek their fortunes and where business and the creative industries prosper.
The number of construction projects currently under way here is simply extraordinary – major redevelopments include those at Pl Mohammed V and the Parc de la Ligue Arabe, and new public buildings include the Grand Théâtre de Casablanca.
The city's handsome Mauresque buildings, which meld French-colonial design and traditional Moroccan style, are best admired in the downtown area. Visitors who spend time there, in the Quartier Habous and in the beachside suburb of Ain Diab, are sure to get into the local swing of things and realise that this old pirate lair is looking towards the future, embracing the European-flavoured urban sophistication that has underpinned life here for the past century.

Getting around by air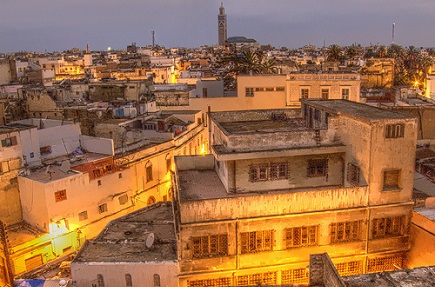 Casablanca's Mohammed V International Airport is 30km southeast of the city on the Marrakesh road. Regular flights leave from here for most countries in Western Europe, as well as to West Africa, Algeria, Tunisia, Egypt, the Middle East and North America.
Internally, the vast majority of Royal Air Maroc's (RAM) flights go via Casablanca, so you can get to many destinations in Morocco directly from the city.
from the Airport
Train Services run between the Mohammed V International Airport and Casablanca's Casa Port station at 4am and then on the hour from 6am to 10pm, with a final service at 11.45pm (1st/2nd class Dh64/43, 45 minutes). Trains stop at Oasis and Casa Voyageurs en route. You'll need to change at Casa Port for Rabat and Kenitra, and at Casa Voyagers for other major destinations. Trains leave from below the ground floor of Terminal 1. From Casa Port train station, the first train to the airport leaves at 3am and then every hour from 5am to 10pm.
Grand Taxi The set price for a grand taxi between the airport and the city centre is Dh300, though drivers work an unofficial cartel and fares can ending up being much more at night or at times of high demand – consider booking an airport pick-up with Vendôme Transport Touristique to be sure of getting the official price. Note that some taxi drivers receive commissions if they bring clients to particular hotels and can be unscrupulous in orchestrating this – don't believe any driver who tells you your hotel of choice is closed.

Get around
By tram
The tram opened in December 2012. The tram works from 6 AM to 22:30 PM during the week. End-to-end journey times are put at 60/70 minutes. The 31-kilometre line links some of main neighbourhoods of the city, and includes 48 stop stations.
Two of the stations, Gare de Casa-Voyageurs, and Gare de l'Oasis are located in front of train stations.
A rechargeable ticket costs 7 Dh for the first time (like 1 DH more to get the Tram-card), and a one-way trip costs 6Dh, regardless of distance. Trams run frequently, with at least one train every ten minutes during daylight and early evening hours.
By bus
Many bus companies run through the city, the bus routes are the same for a given number, although the route remains completely unclear (Google maps has some bus stops for Casa though). Going by bus is the cheapest way to get around (4 Dh) but some companies such as Hana Bus have vehicles in a disastrous state. It could be worth taking the chance given the cost-saving and experience of what many locals experience, but watch out for pickpockets.
By taxi
All taxis red in color, drivers know how to get to every single place in every single guide book, even if you tell them just "the restaurant on Blvd. Hassan II." Don't be surprised if the taxi stops to pick someone else up. The minimum fare is 7.5 Dh. The white taxis act much like buses, squeezing up to 6 passengers inside. They are a set route and a set price, of 4 or 5 Dh. if you are waiting for a taxi feel free to pull one over and tell him where you're going, and he'll take you if he happens to be heading that way. Always pay your 5Dh at the start of the trip!